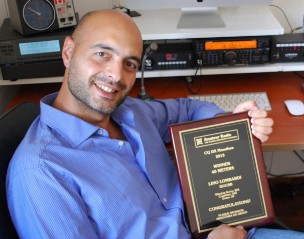 Status QUAD was born as an idea of Lino IZ0CBB. In 2011, discovers the world of the QUAD. After countless experiments and attempts, in 2016 he reaches the end of a long journey and begins to produce his line of antennas.
A thank you to my family, my wife Luana and my daughters Arianna and Ginevra, for the strength they give me every day in carrying out projects and ideas.

ABOUT US
The Status QUAD is a young company that designs and manufactures QUAD antennas for radio amateurs.
WHAT WE DO
We produce antennas taking the highest care and attention to detail, to the materials and easy assembly. Each component has been designed and chosen to ensure a flawless final result.
HOW WE DO
We sell our products, providing pre and post sales support. We are available every day, either via email or telephone, to listen to your requests and ideas. This allows us to grow, constantly improve and produce antennas of your safe liking!
PHILOSOPHY
We pay attention to every detail in accordance with your expectations.
All the products you will see on this website are made with products from companies operating in Europe , unless appropriately specified.